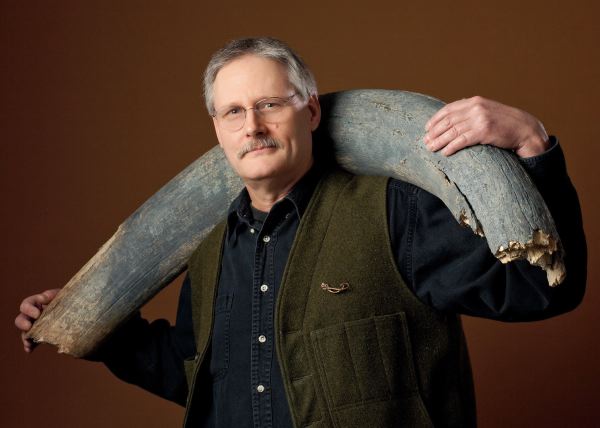 Born in 1950 in Ft. Collins Colorado , Cavin grew up in the Rocky Mountains. His love for wildlife was a natural reflection of his surroundings, a passion that has endured & fueled his desire to carve. Fleeing the sun of the desert he found the ocean in Washington State in 1970 and has lived near the salt water ever since.
When Cavin started carving he had a fantasy to carve a life size chess set that was fueled by staring at an antique cigar store Indian carving. He is self-taught so his learning curve took nearly a decade before his artwork started to resemble his mind'€™s eye. His life in the art world will be 3 phases of 20 years each. The first 20 years he exclusively sold €˜one of a kind€™ carvings of wildlife as jewelry carved in various woods, elk antler & fossil ivory. The second 20 years were his metal years. He learned how to make molds from his original carvings & how to cast them using the Lost Wax Method. He started selling his work in sterling silver & gold but quickly switched to bronze. Cavin liked the earthiness of the bronze & the array of colored patinas. The third 20 years is one that he recently embarked on. He wants to focus on €˜one of a kind€™ sculpture & jewelry, carving wildlife as well as human faces & forms. He is passionate about wildlife conservation & will create imagery to sell and donate a portion of the proceeds to various wildlife conservation groups.
Cavin is drawn to wildlife & natural history imagery. He has always liked realism & is content focusing on that rather than embellishing. He creates images that accurately depict the subject. He started carving in 1969 & has created hundreds of wildlife designs carved mostly in antler, fossil ivory & wood. The majority of his work has been in miniatures that evolved into several jewelry lines but he has also created quite a few larger sculptures in wood & bronze. Cavin loves carving in materials that have a strong totemic resonance mirroring past cultures especially from the Pleistocene Era. His favorite material to carve is fossil ivory. As he carves it he imagines the Ice Age with woolly mammoths, saber tooth tigers, cave bears & mankind€™s fragile coexistence with them. It also represents the start of human's earliest art forms. Early man carved it as long ago as 40,000 to 50,000 years so he is part of a long line of mammoth ivory carvers. It is thrilling to him to continue & add to this dynamic lineage.